New Air Amplifier Type SPLV10 for up to 100 bar working pressure
Zorge, 13. September 2010 | In September 2010 Maximator Gmbh are pleased to introduce a completely new Air Amplifier designated the model Type SPLV10. This new Air Amplifier reaches up to 300 NL/min gas flow and up to 100 bar working pressure.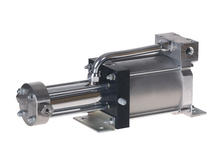 Maximator Air Amplifiers are an effective alternative for increasing the pressure of compressed air directly at the point of use without having to upgrade the complete shop air system to the required higher pressure. The use of this Air Amplifier has a wide range of applications including the actuation of valves or cylinders in a quick and cost-effective manner. For more information about our range of air driven Air Amplifiers, please visit the following link:
With pressure ratios of 1:2, 1:3, 1:4 and 1:5, compressed air could be pressurised to max. 60 bar so far with our existing range of Maximator Air Amplifiers. By means of the new member of the SPLV Series, the SPLV10, now a working pressure of up to 100 bar can be reached. One additional benefit of this high pressure ratio of 1:10 is the potential to increase even a low inlet pressure up to the required working pressure with just one compression stage. Hence applications where usually two or more amplifiers had been required to reach the working pressure can be covered now with just one SPLV10 Air Amplifier.
For further technical details please visit our online product presentation:
---
more Articles
---
The latest five articles