Maximator with New Rental Concept for High-Pressure Technology
Nordhausen | Germany, 12. September 2014 | With this rental concept for compact high-pressure power packs for liquids and gases, Maximator GmbH from Nordhausen brings a new business model to life. Starting on September 2014, customers will be able to rent the Maximator Liquid Power Pack and Gas Power Pack rental units.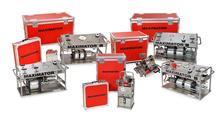 "According to our experience, there is a latent demand for rental equipment in Germany", said René Himmelstein, Sales Director for Maximator GmbH. "We wish to open up this business segment with our rental units. Up to now, Maximator employees have repeatedly faced related inquiries, which were ultimately decisive for introducing the new business segment."

According to this, companies often prefer to rent equipment instead of investing in their own systems themselves. This is especially the case when the equipment is only needed for specific projects, therefore making an investment not worthwhile. As an example, pressure tests on proprietary products are preferably carried out in-house due to confidentiality reasons.

Flexible use of sturdy High-Pressure Technology
The compact Maximator Liquid Power Pack and Maximator Gas Power Pack units are designed to generate high pressures for liquids and gases in a safe and efficient way. These systems are utilised in many different applications for this purpose. The Power Packs test pressure equipment and components for pressure and leakage, calibrate and test the functions of pressure measurement instruments, compress and transfer gases, inject media into processes or charge hydraulic accumulators with nitrogen.

Maximator Liquid Power Packs are suitable for use in mechanical engineering as well as for industrial use. As they are driven by air pressure from 1 to 10 bar, the units generate high pressures without an electrical connection. They reach reliable and effective hydraulic pressures of up to 4,000 bar. Furthermore, the equipment complies with the requirements of European Union explosion protection guidelines 94/9/EG thanks to "ATEX II 2G IIB c Tx". This makes them suitable for use in ATEX Zone 1 as well. In addition, the Maximator Liquid PowerPacks are equipped with extensive accessories for adaptation and pressure measurement.

Maximator Gas Power Packs are designed for simple and safe compression of technical gases up to 2,100 bar. The equipment is suitable for all types of testing and filling applications. The booster stations offer advantages such as oil-free gas compression without contaminating the gases to be compressed. At the same time, operating pressure is easily regulated by setting the drive pressure. The Maximator Gas Power Packs also comply with ATEX guidelines on explosion protection. Furthermore, these high-pressure systems are also equipped with extensive accessories for adaptation and pressure measurement.

The Power Pack type nitrogen charging station has been specially designed for boosting nitrogen from gas bottles and can be operated both with air pressure and directly with nitrogen from the bottle as well. It generates gas pressure of up to 500 bar.

All compact Maximator Power Packs and their accessories are housed in a flight case. This stable box ensures secure transport.

For further Information about the Maximator Rental Units, Data Sheets as well as the Rental Units Catalog please visit our new Rental Unit online presentatione:

Rental Units online presentation
---
more Articles
---
The latest five articles