Hydrogen compressor: New sealing concept for safe and efficient hydrogen compression up to 1000 bar
Nordhausen, 02. December 2013 | Maximator has developed a new sealing concept for its air driven gas booster to compress hydrogen up to 1000 bar.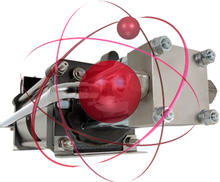 This concept comprises both the materials and also the geometry of the high-pressure piston and the high-pressure seal. Both were specially developed for the optimum resistance of hydrogen at a pressure of 1000 bar.
In a long-term test it was possible to prove that this new sealing concept significantly reduced the leak rate of hydrogen seals at 1000 bar compared to standard seals of the DLE gas booster series, and also significantly increased the life cycles of the seal.
In combination with hydrogen-resistant stainless steels for high pressure cylinders, check body and check valves, this further development allows users a highly efficient and, at the same time, secure seal for hydrogen up to 1000 bar.

A further advantage: Every Maximator gas booster of the DLE series is equipped with flushing connections, so that the rear piston chamber can be flushed with inert gases. This counteracts the creation of explosive atmospheres even during compression.
Further information for the compression of hydrogen:

Maximator-Best-Practice-Hydrogen-Compression-11-2013.pdf

download
---
more Articles
---
The latest five articles