Maximator validated as a "known consignor".
Nordhausen, 16. November 2012 | One of the first companies nationwide: Maximator fulfils all official security stipulations for international airfreight shipments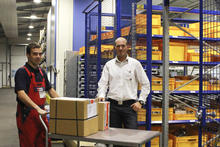 The aviation system is one of the critical points of a globalised world. Effective protection against terrorist attacks therefore has top priority in international freighting. After the attacks on 11th September 2001, the classification of "known consignor" was introduced to facilitate internationally operating companies in processing their daily business. On 25th March 2013, a new classification regulation will take effect. An official recognition as a known consignor will be required in accordance with the new terms. All companies that cannot prove validation before this reference date will lose their status as a known consignor. The negative impacts of such a loss of status on the transport costs and adherence to delivery schedules are considerable. To avoid this, Maximator was one of the first companies throughout Germany to successfully go through the new validation process.

According to the Chamber of Industry and Commerce in Frankfurt am Main, around 55,000 businesses across Germany are affected by the extensive revision of the EU aviation security directive (VO (EC) no. 300/2008). The requirements to guarantee a "secure delivery chain" have been significantly tightened. As can be read on the Federal Aviation Office website, there are generally only two possibilities for sending goods by air available to producing companies from 25th March: so-called "unsafe" goods must be made "safe" by a regulated commissioner or aviation company. This requires a complex procedure that involves a significant amount of time and for which the full amount is invoiced. Companies in possession of an official approval as a known consignor can send "safe" airfreight in the future without going through the inspection procedure for each individual shipment. The known consignor provides a personal guarantee of sufficient security measures.

Consequential fulfilment of all conditions
Maximator gave certification as a known consignor top priority from the very beginning. Sascha Schiele, General Manager of Maximator GmbH, said: "The ability to provide our customers with products and spare parts as quickly as possible is very important to us as an exporting company. This is why we decided at an early stage to go through the complex approval procedure and the associated conditions to become a known consignor". Although it meant a significant cost factor and time during the validation phase, it proved to be a clear competitive advantage in the long run. The decision-makers are certainly proud to look back on the consistent implementation of new constraints. Validation as a known consignor only took place after implementation of the new legal regulations and training of all affected employees. This means that the globally operating Maximator clients can continue to be supplied with high pressure components and spare parts cost-effectively and on time in the future.

The consequential and fast implementation of the amended legal situation matches the general Maximator GmbH company philosophy. The company that makes considerable investments in the areas of research and development of hydrogen testing technologies, among others, also remains on course towards a secure future and sustainability in the area of logistics.

---
more Articles
---
The latest five articles