New training model: Maximator teaches hydraulics know-how
Nordhausen, 24. February 2015 | Maximator GmbH based in Nordhausen now offers fluid-technical training courses, starting with a basic course in 2015. In contrast to product-specific training courses, these seminars have a broad-based approach regardless of product makes.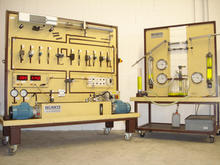 Service manager Dennis Kegler explains the thoughts behind the structure of the seminar: "It was our clear objective to teach those employees who do not generally work with hydraulic components about fluidics in general. This will allow them to understand the functional background, evaluate situations better, and to detect and rectify malfunctions more quickly." The goal is therefore not to train specialists, but to provide general knowledge to a wide range of users.

Close orientation to the needs of the target group

Compared to similar courses offered by other service providers, Maximator made a conscious decision to offer a less expensive (EUR 995) and more compact course. Instead of a one-week foundation course, Maximator teaches the basic know-how within three days in smaller groups of up to 12 persons. There is a large practical element to the course: machine operators primarily learn the skills they require on simulators. Without neglecting the theory, the focus always remains on practical relevance. The follow-up courses are scheduled for the following year.

Seminar contents:

Structuring malfunctions
Basic principles for the use of measuring equipment
Troubleshooting methods for hydraulic systems
Systematic troubleshooting in teams
Evaluation of the condition of individual hydraulic parts
Preventive maintenance for hydraulic systems
Raising awareness for quality in maintenance and production
more Articles
artikel::morearticles