Maximator takes over Mavotec and enters the breathing air compressor market
Nordhausen, 17. January 2013 | Electrically driven high-pressure compressors for breathing air now round off the product range of the company Maximator GmbH from Nordhausen. This high-pressure specialist supplies high-pressure compressors for industrial customers, fire service and emergency response teams, divers, paintball players and sports marksmen.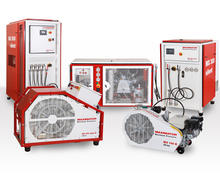 Proven compressor technology under new management

To expand this portfolio, Maximator has now taken over the business operations of the company Mavotec GmbH & Co. KG from Odenwald. This manufacturer of gas mixing and compressor technology has been making an international name for itself since 2002 by virtue of its own product series and further developments. "We are very pleased that we can tap the competence and experience of Mavotec to expand our product portfolio to include high-pressure compressors for breathing air and gas mixing equipment. The Mavotec products will be marketed under the brand name Maximator and will continue to stand out thanks to the sturdy and reliable Mavotec construction. Our know-how in the high-pressure technology field also flows into the products" announces Henning Willig, managing director of Maximator. Products are sold via retail outlets and a B-to-B online shop at www.maximator-kompressoren.de.
Sturdy and durable high-pressure compressors and gas mixing technology
The new division at Maximator comprises three sections: breathing air compressors for sportsmen and women and members of fire service and emergency teams; a second field for industrial applications such as nitrogen systems, breathing air systems and fire prevention equipment, for instance in the paper industry, chemical industry, tunnel construction and mining industry or the aviation sector. The third section comprises gas mixing technology, such as systems for producing mixed gases in a partial pressure method or the constant flow method. "Our products stand out from others: we also use the high standard and the quality stipulated for industrial equipment in our breathing apparatus," explains Markus Voigt, former managing director of Mavotec and now manager of the technical office for the breathing air compressor division at Maximator.

He uses the example of the stationary high-pressure compressor "MX 400". The delivery output of 400 litres per minute is standard for the market; however, thanks to the lower speed of 800 rpm, the high-pressure compressor does not heat up as much, which in turn means less wear and a longer service life. This is also guaranteed thanks to the steel piston rings and the special cooler. An automatic stop and automatic condensate drain are standard features of all Maximator systems. A further example: Only flexible full stainless steel oxygen tubes that have been specially approved for breathable oxygen above 20 bar are used in the mixing system "MX GasMix Set V.8". The modular structure of the device allows simple handling during partial pressure mixing and also when using the device as a cylinder pressure test device or as a compressor filling tool. A wide range of components and accessories such as filling connections, fittings or valves round off the product range.
See also

---
more Articles
---
The latest five articles