WID technology by Maximator for the series production of structural parts in an HP-RTM procedure
Nordhausen, 23. September 2015 | Maximator adapts a water assist system for structural parts made of fibre composite material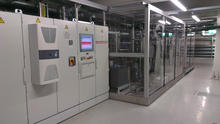 Lightweight designs in the automotive production field dictate the selection of suitable materials and production procedures. The HP-RTM procedure (High-Pressure Resin Transfer Molding) has proven itself for the production of weight-reduced parts in the automotive sector because it allows series production of parts with significant weight savings.

Maximator GmbH, the specialist for gas assist and water assist technology from Nordhausen, has now adapted a water injection system for this production method. The automobile manufacturer BMW currently uses this system for the series production of large structural parts made of a fibre composite material. "The Maximator water assist system is being used in conjunction with the HP-RTM procedure for the first time at BMW. We adapted our water assist technology especially for this process," says René Himmelstein, Vice President Sales & Marketing Maximator GmbH.

The combination of the HP-RTM technology and the proven fluid injection technology means that lightweight but stronger hollow parts can be produced in series. "The fluid injection broadens the application range of the HP-RTM technology significantly and opens up new possibilities in terms of lightweight constructions," the Vice President explains.

System at the BMW Group's site in Landshut

Maximator has supplied gas assist and water assist systems for series production of plastic components, in particular in the automotive sector, for decades, and has lots of experience of customising the technology to meet the needs on site. The production system at the BMW Group site in Landshut comprises two central units: the water treatment unit and the pressure unit. The water assist system generates internal pressure that is exerted onto the blow mould during the HP-RTM procedure. The emptying process is realised after the injected resin has been allowed to harden briefly in the CFK matrix that is woven around the lost blow mould.

The construction situation and the process fluid presented special challenges. The high-pressure supply unit and the valve assembly needed to be fitted as close to each other as possible to guarantee successful implementation of the RTM process. This was achieved by developing a complex injector with multiple integrated monolithic valves and process technology for series production.

Individual adjustment, cross-technology-cooperation

Another stipulation was the use of very pure, demineralised water at the very high temperature necessary for the process. All system parts that come into contact with water are made of proven metal alloys to ensure they can withstand this aggressive corrosion. A water heater was also installed to accelerate the resin hardening process. "A decisive factor for the system design was of course the series production aspect," says René Himmelstein.

The parts need to be produced in a high cycle rate whilst ensuring that they have a certain temperature when taken from the mould so that they do not deform. Maximator also provided a customised process connection in terms of the control unit, the visualisation and data processing. The Vice President concludes: "This project is very special for us, not just because of the combination of the HP-RTM procedure and the water assist molding technology, but also because its success depended greatly on close cooperation with the manufacturer of the press, the tool maker and the resin supplier."

---
more Articles
---
The latest five articles