The Schmidt-Kranz Group
1885
Businessmen Messrs. Schmidt and Kranz founded Nordhäuser Maschinenfabrik in 1885. As a supplier of the Central German potash mining industry the young company swiftly gained importance. The company's manufacturing facilities and administrative building were built in Ullrichstraße, Nordhausen.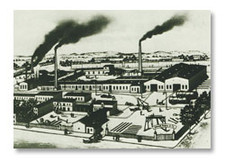 1922
Prof. Dr. Karl Glinz took over the machine factory. With entrepreneurial spirit he extended its product range by processing and conditioning plants and hydraulic engineering facilities (e.g. lock gates).
1930
Prof. Glinz included the small tractor Normag into the manufacturing program.
1937
Prof. Dr. Karl Glinz deceased. His son, Dr. Hans-Karl Glinz, also very much aware of the market and far-sighted became chairman of the supervisory board. Especially brisk tractor sales contributed to continual corporate growth until World War II.
1945
Nordhausen started manufacturing of tractor spare parts and systems for the resumption of potash mining operations. In mid-1945, the province of Saxony was integrated into the Soviet-occupied zone and Schmidt, Kranz declared a stock corporation.
Normag Zorge GmbH was founded at the same time in Zorge. Manufacturing of tractor spare parts and spares for the mining machinery program of Schmidt, Kranz began. Assembly of small tractor series started.
1947
In the course of political changes the province of Saxony was returned to the state of Thuringia. Normag became a nationally-owned company and very successfully produced tractors for the COMECON countries until German reunification.
1949
The tractor market expanded and systematic further development and manufacturing of this product line were relocated to Hattingen/Ruhr. Normag became supplier to this plant.
1952
The corporate headquarters were moved to Velbert/ Langenberg.
1955
The Orenstein & Koppel Group bought the Hattingen plant.
1956
Normag resumes production of mining equipment spare parts. The original company name Schmidt, Kranz & Co. was used again with the addition of GmbH (limited liability company). A new broad range of products for potash and hard coal mining was advanced, including drill rods and accessories, mobile drilling cradles and drill carriages. Also a complete impregnating program for hard coal mining was developed.
1970
The Zorge plant was extended for several years. Management includes high-pressure hydraulics into the production and supply program. This advanced technology was swiftly established in the market.
1990
Schmidt, Kranz repurchased the original plant in Nordhausen in the course of German reunification.
2002
The business divisions Perforator Bohrtechnik (drilling systems) and MAXIMATOR Hochdrucktechnik (high-pressure systems) became independent companies (GmbH).
The Schmidt, Kranz & Co. Group is the holding company for MAXIMATOR Hochdrucktechnik, PERFORATOR Bohrtechnik, GHH Fahrzeuge (vehicles), HAZEMAG & EPR Bergbau und Bohrtechnik (mining and drilling equipment) as well as Fest Automatisierungstechnik (automation engineering).