The technology has been optimized for the compression of liquid and gaseous fluids, so that the pumps of the LGP series can compress and convey both aggregate states.
Another special feature of this series is its suitability for the compression of flammable media. A flameproof enclosure according to DIN EN 60079-1 including a TÜV test has been implemented. Thus, the pumps of the LGP series can be used for a variety of fluids.
The SLGP and GLGP pumps are also optionally available with reduced stroke. On the one hand, this reduces the size of the pump and, on the other hand, this reduces the likelyhood of icing on the muffler. Should a phase transition nevertheless occur, the pumps of the Maximator LGP series can also pump the fluid in the gas phase without impairing functionality.
Advantages of Maximator Maximator LGP-Serie: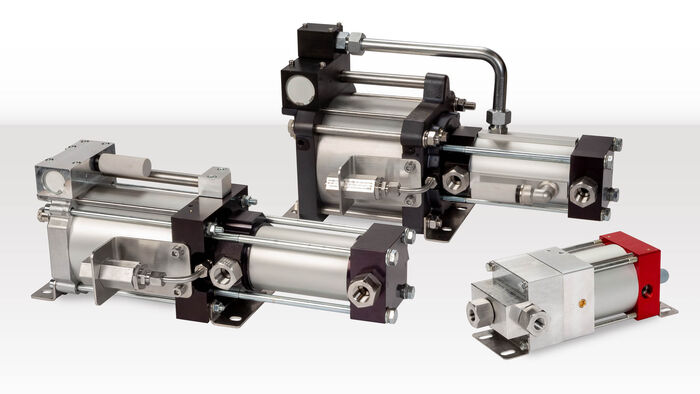 Pressure regulation via manual pressure regulator or pneumatically actuated valve
Operation with compressed air and design adaptations allows use in explosion-proof areas
Flame arrester for the use of flammable fluids
Easy installation and trouble-free handling of pumps
Low maintenance thanks to reliable, easy-to-install devices
Easy handling of occurring phase transitions
Increased availability through fluid resistant material selection
Application-optimized technology to avoid icing or phase transitions
Flame arrester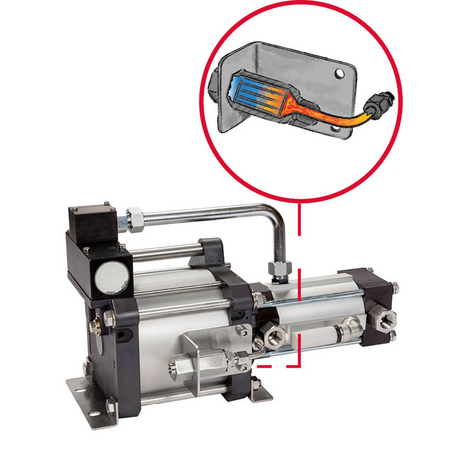 Common climate-friendly refrigerants are mostly flammable. Should a flammable mixture of the refrigerant and oxygen form inside the pump, ignition can occur. In the event of a leak on the high pressure side, a flammable gas mixture could form in the combined leakage hole that has a connection to the air drive. This can trigger an explosion in the event of ignition.
The resulting flame is stopped immediately in the flame arrester, which prevents the thermal energy from spreading. In addition, the space of the combined leakage line is designed and tested according to DIN EN 60079-1, so that no flame can escape. There is a flameproof enclosure in accordance with gas group IIB.
The pumps may be operated in potentially explosive atmospheres with appropriate precautions.
Versions and Options*
FS – Flame safety device, see flame arrester.
RS – Reduced Stroke.The stroke volume of the pump is split in half.
two stage (3-3, 5-5) – The medium is compressed via two pressure stages.
FEC – For Extreme Cycling. For drive with dry compressed air or nitrogen
LT – Low Temperature. The media temperature can be as low as -40°C. Special sealing materials are used for this purpose.
LTA – Low Temperature Ambient. The media and ambient temperatures can be as low as -40°C. Special sealing materials are used for this purpose.
SS – Stainless Steel. Wetted parts made of stainless steel.
*These options/ variants cannot be retrofitted and must therefore be specified when ordering.