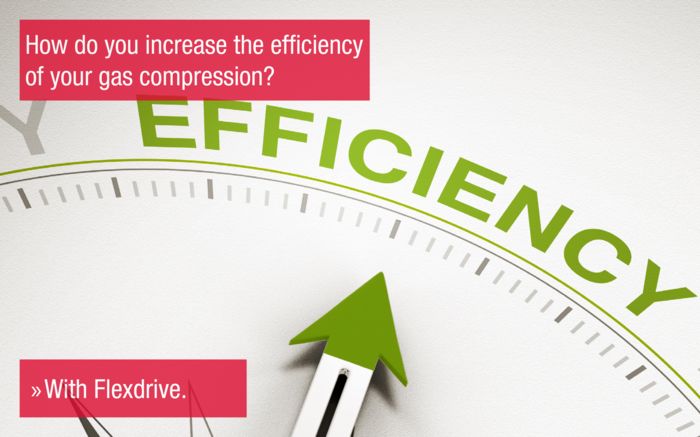 Flexdrive - Drive modification for efficient filling processes
Our patented further development for compressors to save costs in compressed air consumption
Flexdrive is a conversion kit developed by Maximator to reduce the air consumption of high pressure compressors. The modification can be implemented for all MAXIMATOR compressors with two air drive parts and is used in the following applications:
filling processes
testing processes
transfer operations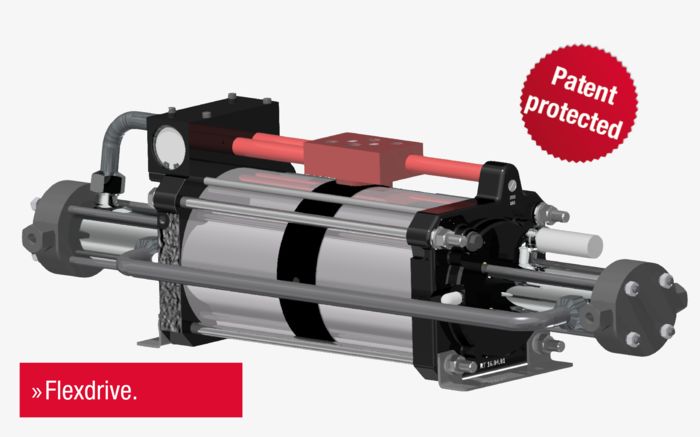 Why was Flexdrive developed?
The implementation of energy-efficient measures is an important contribution to climate change. With this in mind, Maximator GmbH has developed various product-related optimizations in order to achieve ecologically effective efficiency-increasing goals.
What are the benefits of Flexdrive?
The Flexdrive ensures that the relatively high costs for and the high consumption of drive compressed air are reduced. The reduction in consumption is up to 40 %, the filling times for conveying and compressing the compressed air into the system are reduced by up to 20 %. Another profitable benefit is the reduction in process times. Existing compressors can be converted, retrofitted or equipped with a minimal effort of 15 minutes.
Benefits:
compressed air savings of up to 40%
time savings of up to 20%
simple conversion and retrofitting
Flexdrive thus ensures overall lower operating costs, shorter process times and thus brings economic and ecological advantages with it. There is a very high potential for savings, particularly with large container volumes and low inlet pressures.
What savings potential can be generated?
Savings
Bottle filling from 30 bar to 400 bar target pressure with a DLE 30-75-2
Storage volume
Compressed air savings
Filling time savings
3 liter
32 %
22 %
20 liter
34 %
23 %
50 liter
36 %
24 %
Bottle filling from 30 bar to 250 bar target pressure with a DLE 30-2
3 liter
20 %
4 %
20 liter
22 %
4 %
50 liter
38 %
4 %
Bottle filling from 40 bar to 700 bar target pressure with booster combination 2x DLE 30-2 / 2x DLE 75-2
120 liter
27 %
7 %
The following diagram shows the savings potential of Flexdrive in terms of outlet pressure and air consumption.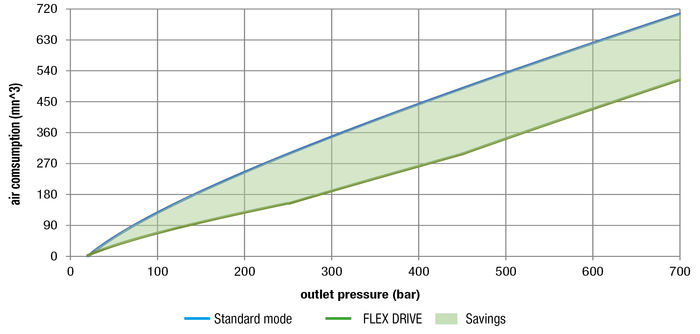 In which applications does Flexdrive show its strengths?
About 80 % of the Maximator applications in the gas industry deal with filling and transferring processes. The compressibility of the gases causes an increasing expenditure of force to generate pressure. This means that the transmission ratio determines the ultimate pressure. With 2 drive parts, only a low drive pressure can be compensated, whereby the greatest possible force is only required later in the process. This is where Flexdrive comes in. It combines the low air consumption at the beginning of the process with the force required at the end.
The strengths of Flexdrive are:
demand-controlled changeover - pressure-controlled changeover between the transmission ratios
automatic switchover - switchover by pneumatic valves
can be used in a wide variety of areas thanks to its variants
Possible uses can be found among others
when transferring or filling gaseous fluids into a container, for example a pressurized gas container
in the supply of internal gas pressure systems
in the supply of test and control units for compressed air and gases
in systems for filling airbag gas containers
at test stands for pressure tests
For which products can Flexdrive be used?
Flexdrive can be used with all Maximator compressed air boosters with at least 2 air drives.
What is the application for new and existing systems?
All new systems as well as systems from the last 2 years can preferably be upgraded or converted. The conversion is conceivable for older models.
Which versions are available, what are their benefits and in which areas are they used?
Flexdrive conversion kit is available in 3 different versions:
manual - switchover by means of a ball valve after the standstill pressure has been reached
pneumatic - switching by means of pneumatic valves and pressure switch
electrical - switching by means of a solenoid valve, pressure sensor and higher-level control
Manual valves are installed for manual actuation. As soon as there is an equilibrium of forces on the drive side and the high pressure side, the booster stops (standstill pressure). A ball valve is then used to switch to the two-piston drive.
This version is used in laboratories, for example, since the filling time does not play a decisive role here.
Pneumatically operated valves are installed in pneumatic actuation. They are controlled via a pressure switch. This allows you to switch between single-piston and two-piston drive depending on the operating pressure.
In the electrically operated version, electrically controllable valves are built in, which can also be integrated into an existing PLC. The switch between single and two-piston drive takes place within the PLC using a pressure transmitter. Stored switching pressures and solenoid valves ensure switching to the more efficient mode.
Is the information available for download?
Yes, please download the product information for Flexdrive here.
How can I get in touch?
If you would like to contact us directly, please fill out the following form.