The Maximator high pressure homogenizer HPL6 can be used for cell disruption in the biotechnology, for the homogenizing of dairy products, disruption of cellulose in vegetables, and production of gel systems in the pharmaceutical industry.
Overview Components of HPL6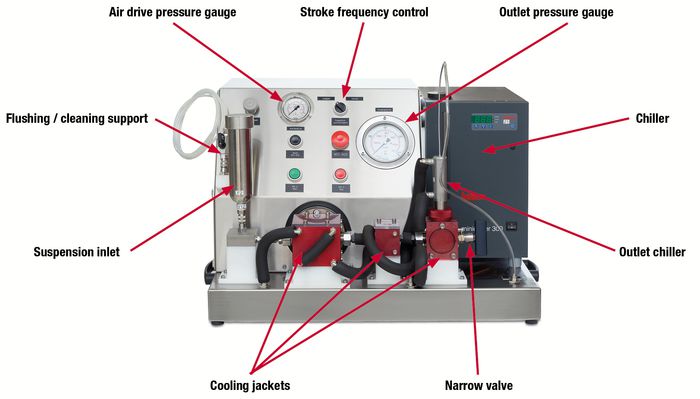 The Maximator high pressure homogenizer HPL6 is designed for energy-efficient, continuous production of superfine emulsions. The HPL6 system achieves the homogenizing effect by means of fully adjustable decompression of the liquid from max. 4200 bar to an ambient pressure.
The high pressure homogenizer uses a Maximator air driven high pressure pump to pressurise the suspension / liquid. The required pressure for the homogenizing process can be easily pre-set by means of adjusting the air drive pressure from 1 to 10 bar.
In order to achiev the best possible homogenizing results, a Maximator high pressure micrometer-needle valve is used as homogenizing valve and allows the user to adjust the gap in an extremly precise manner.
HPL6 user benefits
Excellent flow rates at comparatively very high pressure
Low temperature throughout entire process
Simple and safe operation
Very easy and fast to clean
Quiet and low-maintenance
Small dead space volume
Very fast support-exchange (from sample vessel to flushing swivel)
Process description: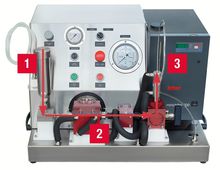 Intake from sample vessel
Pressurisation of suspension
Homogenization / Cell disruption
4-zone cooling:
to maintain temperature specifications (2°C) over the entire homogenisation / cell disruption process
Pump head cooling
T-piece cooling
Narrow valve cooling
Outlet cooling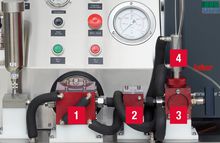 Cleaning process: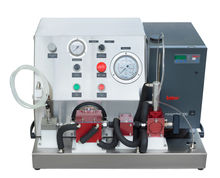 The Maximator HPL6 high pressure homogenizer is developed from professional users and hence offers one of the fastest cleaning procedure. The clever design allows the cleaning of the system in less than one minute.
After the homogenization process or cell lyses the sample vessel just needs to be removed and the flushing swivel is to be connected to the intake quick coupling in order to flush the complete system with e.g. DI-Water.