Testing & Production Services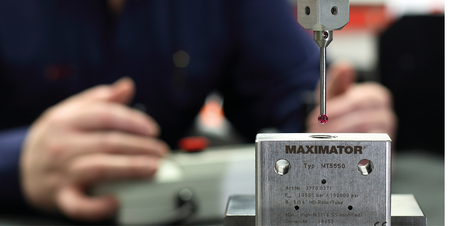 Testing "on demand"
Our test laboratories in Germany, the USA and China are equipped to perform static pressure testing and burst testing, pressure fatigue testing, as well as Autofrettage services - swiftly and precisely. Our services provide you the opportunity to determine the performance parameters and quality features of your products while still in the prototype stage and under real-life conditions.
Our labs can support you with: material validation testing, PPAP testing, and component/assembly validation testing, etc… In short, we can provide you with the data you need to make informed decisions.
MAXIMATOR Testing & Production Services
Pulsation and durability testing
Pressure testing (also with temperature-controlled environment)
Leakage testing
Burst pressure testing
Autofrettage
Rail flushing and assembly
Documentation
When it comes to test reports and documentation, attention to detail is vital and this is exactly why our test reports are accepted by leading automobile manufacturers the world over - without question.
We provide comprehensive photo documentation and detailed test results for each test sample or job-lot series. Our standard operating procedure is complete traceability of test results.
Results for each test sample
Description of special events
Exact description of failure location
Presentation of test accuracy
Photo documentation
Factory certificates of pressure gauging instruments
MAXIMATOR Service Testing Centers
Our test labs MAXIFES (Germany), MAXIMATOR Customer Center (China) and MAXIMATOR Test, LLC (USA) provide innovative and cost-efficient services to help you solve your high-pressure test tasks.
Experienced test engineers and technicians carry out tests for you, swiftly and reliably. Our unique equipment is capable of performing a wide variety of contract testing orders:
As a specialist for static and dynamic pressure tests, burst pressure tests, pulse and fatigue tests, tests with temperature regulation from -40°C to +200°C we can test for you on our technically advanced machines in our Nordhausen factory.
Hoses
Fittings
Tanks
Accumulators
Hollow bodies
Pressure transducers
Hydraulic components

Your benefits:
fast
safe
reliable
cost attractive
no man-power necessary