Pressure Vessel Test Service
Maximator offers you all legally required tests for pressure vessels as a service, such as Tests in accordance with ECE R110, ECE R134, EC79 / 2009 or EU406 / 2010 or even UN GTR no. 13. In addition, we can also offer services according to your individual requirements.
In our test laboratories, we assume responsibility to support your production tests of prototypes as well as to perform the quality control of serial parts.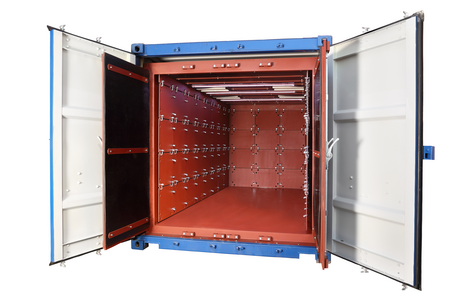 The MAXIMATOR service testing center not only carries out its own development activities, but also a wide range of tests as a service. (e.g. tests on large-volume composite components up to 500 litres capacity and 4 m long) It is possible, while testing a tank, to record its expansion behaviour in longitudinal and circumferential direction to accuracies of 0.1 mm using laser-optical expansion measurement. In the case of burst tests, tank failures can be recorded with the use of high-speed cameras to help determine failure modes. In addition, the new test stand in the Nordhausen service centre enables composite tanks to be placed under mechanical load (torsion and bending) in burst or pressure load change tests. This gives rise to informative insights into the burst behaviour of test specimens, which is advantageous to component assessment and helps to reduce development times.
Our service program:
Proof pressure / Burst pressure tests

Pressure cycle tests
- At ambient temperatures
- At extreme temperatures
- With pre-treatment (e.g. thermal, flaw, drop, crash)
Leakage tests
Real-gas cycles (e.g. with hydrogen)
Bonfire and penetration tests
High-performance test equipment:

Burst pressure tests

Pressure: up to 4,000 bar

Volume: up to 500 l

Length: up to 4,000 mm

Variable pressure increase rates

Pressure cycle tests

Pressure: up to 1,400 bar upper pressure level

Frequency: up to 10 pressure cycles / min

Ambient and fluid temperature: ≤ - 40°C up to ≥ + 85°C
Reproducible sinus curve

Leakage tests
Pressure: up to 1,050 bar
Tracer gas: helium or hydrogen
Integral test procedure under vacuum

Local test procedure with a sniffer probe
Traceable leakage rate up to 10-8 mbar * l * s-1
Real-gas cycles
Pressure: up to 1,050 bar
Volume: up to 150 l (6 kg H2)
Length: up to 2,500 mm

Diameter: up to 600 mm
Ambient temperature: ≤ -60°C up to ≥ +120°C
Fluid temperature: ≤ -60 °C up to ≥ +60°C
Failure of the specimen under gas pressure accepted
Optional supplementary components:

High speed recording of the burst process up to 10.000 images / second

Laser-optical 3D deformation measuring
Torsional moment up to 10,000 Nm
Bending strength up to 15,000 N
Convincing benefits:
Long-term experience and competence in high-pressure and test technologies
Support of new developments
Ensuring test reproducibility
Performance of tests on short notice
Shortening of product development cycles
Cost-efficient solutions for your testing needs
If required: Transfer to test stand technology