Application

The water assisted molding technology (WIT) is a process variant of the assisted molding technology where, instead of gas, water is injected into an injection molding part.
As water has a considerably greater heat capacity than, for example, nitrogen, a significant advantage results through the utilization of water as an injection medium in comparison to the gas internal-pressure process: The cycle time can be significantly reduced as a result of the higher cooling effect (up to 50%).
Furthermore, better surface structures, as well as smaller remaining wall thicknesses, are achieved by this process.

The water assisted molding technology is employed mainly for component parts where large cross sections and channel lengths are to be applied. Such component parts are, for example, media-carrying lines in the automotive sector.

Also, as a result of the good surface qualities, different component parts in the sanitary area are produced with this process.
WID/DV/2/300/1,5

Water Assisted System for up to 300 bar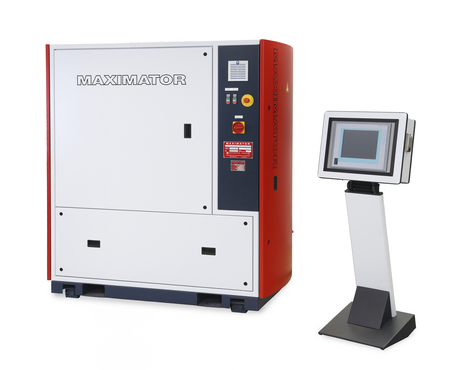 The MAXIMATOR water assisted system combines two equipment concepts in one system by providing both volume-flow and pressure control. This innovation remarkably extends the range of potential applications in the plastics industry.


Pressure is generated by a three-piston pump driven by an electric motor. One pressure accumulator is provided for each cavity. Pressurised water controls the injector.

The pressure accumulator charges the tool either directly via a proportional valve or through a pressure piston. Following reception of the start signal, both volume flow and pressure can be controlled.

Additional volume metering is measuring the whole charged volume in both cases. Specified and generated values are graphically displayed on the touch panel. The touch panel is used for all necessary inputs and monitoring of process data.

The system is also equipped with a temperature and filling level monitoring function. Following depressurisation, components may be blown out with compressed air. Design and installation are in particular focused on low maintenance demands, clear arrangement and easy handling of system components.

Volume-flow and pressure-controlled system
Curve form freely programmable with ramp function
Compact design for 2 cavities
Emptying of components by blow-out
Separate volume monitoring of each cavity also during pure pressure control
TIK-WIT process selectable via touch panel