Technical support

Do you have a malfunction in your machine and need our support urgently? Or do you want a specialist in high-pressure engineering to give you advice about a project? Do not hesitate to contact our engineers and technicians, who will be delighted to help you further with their practical knowledge. We will gladly draw up tailor-made concepts in order to find a solution for you.

We can do the following things for you:

Immediate help.
Modernization.
Optimization.
Conversion.
Remote maintenance.
Rental equipment.

Our engineers and technicians are available for you from Monday to Thursday during the period from 7 a.m. to 4:15 p.m. and on Friday from 7 a.m. to 2 p.m. at following phone number: +49 (0)3631 9533 5444.
If you require our help outside the hours of business at any time, then please use the Maximator service hotline which we have set up for you.
Maximator Service Hotline

Charged call • 4:15 p.m. to 10 p.m. (Central European Time) on Monday to Thursday; 2 p.m. to 10 p.m. (Central European Time) on Friday; 8 a.m. to 8 p.m. (Central European Time) on Saturday to Sunday.
For the use of the service hotline telephone charges are incurred. The times for support and advice are billed on an actual hourly basis. Should a service be necessary, this will be charged additionally.
Hotline:
Hotline: +49(0)1805-MAXIMATOR • [+49(0)1805-629 462]*
Important: In order to help you quickly, we need information about the machine / the product. Here you will find the data we need.
Nameplate MAXIMATOR Systems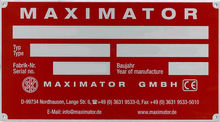 Nameplate MAXIMATOR Components