The short shot process

Injection phase


70% ± 20% of the volume of the cavity is dosed and injected
According to process, the gas injection occurs via machine nozzle, injector modules in the sprue or in the molded piece



Gas injection phase


This begins shortly before the termination of the injection phase, in order to avoid switchover markings
Gas fills the cavity and drives the melt front forward
Targeted hollow spaces form in the molded piece

Gas hold-pressure phase


The gas pressure is retained after the complete filling of the cavity, until the molded piece is stable
Relief of the gas pressure after solidifying of the melt



The full shot process
Push-back process

The cavity is completely filled with melt - at the flow path end the gas injection begins.
The molten core is pushed back into the barrel of the molding machine and the screw is withdrawn.

Overspill process

The cavity is completely filled with melt. A secondary cavity is connected to the main cavity by a valve gate.

The surplus mass is displaced into the secondary cavity by the gas pressure.

Systems technology of gas and water assisted molding technology
For the application of gas and water assisted injection technology, as well as the injection molding machine, basically two additional functions are to be applied: Pressure generation and pressure control.

In the area of gas assisted molding technology, two different types of gas pressure generation are differentiated. On the one hand, discontinuous gas pressure generation which is mainly employed for the GIT process in case of individual machines and, on the other hand, continuous gas pressure generation which is employed for the centralized supply of several injection molding machines. The gas pressure regulation is applied individually with pressure-control modules at every injection molding machine. The pressure-control module decreases the supplied system pressure to the necessary gas pressure. Communication with the injection molding machine is realized by means of an electrical control. Maximator offers compressor stations and control modules, as well as combined compressor control modules, for discontinuous and continuous gas pressure generation.

In the area of water assisted molding technology of the MAXIMATOR WID system, both the pressure generation and the pressure control are applied in one system. The following schematics indicate the basic structure of the systems technology.
Gas assisted molding with liquid gas supply

Supply with liquid nitrogen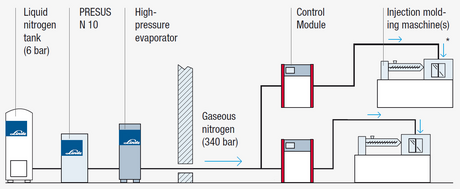 Supply with liquid carbon dioxide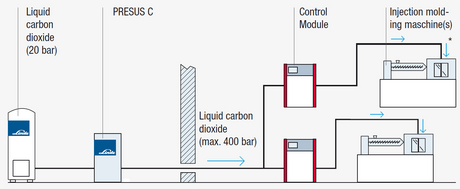 Gas assisted molding with gas bottle supply

Compressor Station and Control Module


Compressor- Control Module


Water assisted molding


Gasdosing Technology


* Courtesy of Linde AG